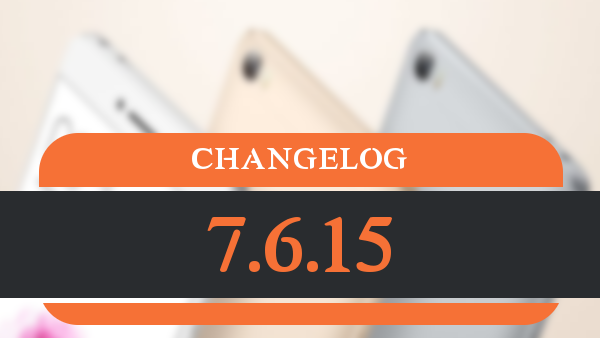 STATUS:

Online!


MI3WMI4W, MiNote 7.6.14 RELEASED
MiUI globeROM Changelog

-Fixed CenterClock Mod DualSIM issue (wrong order for wifi and cell icons)
-Many devices suspended for some weeks, please read whole changelog !
-Completely reworked installation process for globeROM:
-> Now with Error Handling (checking for insufficient disk space and other problems that could lead to bootloops!)
-> Please follow the installation process and look for WARNINGS and ERRORS
-> If you have any problems, upload /tmp/recovery.log, /sdcard/globeROM_install.log and /sdcard/MIUI/globeROM_boot.log as described in FAQ!

Please read the
How To
before flashing our ROM! -->
https://mi-globe.com/index.php/how-to
Please read the
FAQ
for Frequently asked Questions! -->
general-development-f34/faq...
Problems or Feature Requests can be posted on our
Support Forum
-->
support-and-help-f33/
Download latest MiUI globeROM here
-->
https://mi-globe.com/index.php/rom-builder/
xiaomi.eu and official MIUI Changes
Redmi 4X
Update to Android N 7.1.2
Messaging
New - "Today", "Yesterday", and "Earlier" timeline on the start page (06-15)
Lockscreen, Status Bar, Notification Bar
Fix - Error message appeared after the correct password was entered (06-14)
Fix - Couldn't unlock with Mi Band after password was turned off and then turned on again (06-14)
Home screen
Fix - Icon wasn't shown in some cases (06-14)
Optimization - Swipe response (06-14)
Fix - Issues with backups (06-14)
Since the very beginning of 2017, our developers has been putting strenuous efforts on MIUI optimizations. To overcome tiredness and fatigue has never been easy, but, the battle ahead requires heroes. To ensure a successful result, the Development Team will be entering a closed developing phase, concentrating on improving users experience and system optimization.

As a result of a carefully discussed decision, starting from 12th of June, 2017. Some devices will be suspended from regular Global Beta ROM updates (Global/China Stable ROM will not be affected by this decision). This progress will be lasting for a while. Our most optimistic estimate of this suspension decision will be ended gradually for each individual device starting in August. Please check the announcement regularly for any updates. Once again, thank you for your understanding and pardon. We will bring you a better MIUI for sure.

Update suspended temporarily for the following devices (From 12th June to August, including Closed/Open Dev/Alpha):

Mi 2/2S / Mi 3 / Mi 4 / Mi Note / Mi Pad 1 / Mi Pad 2 / Google Nexus 5 / Redmi 1 / Redmi 1S / Redmi 2 / Redmi 2A / Redmi 2 Prime / Redmi 3 / Redmi 3S/3X / Redmi 4A / Redmi 4 / Redmi 4 Prime / Redmi Pro / Redmi Note 4 / Redmi Note 3G / Redmi Note 4G / Redmi Note Prime / Redmi Note 2 / Redmi Note 3 MTK / Redmi Note 3 Qualcomm

Update for the following devices releases as usual (Including Closed/Open Dev/Alpha):

Mi 6 / Mi Note 2 / Mi MIX / Mi 5c / Mi 5s / Mi 5s Plus / Mi 5 / Mi 4S / Mi 4c / Mi Max 2 / Mi Max 64G(128G) / Mi Max 32G / Mi Note Pro / Redmi Note 4X/Qualcomm / Redmi 4X

More info:

http://en.miui.com/thread-645418-1-1.html