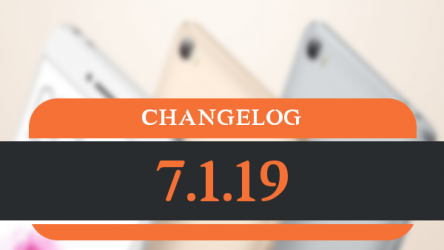 MiUI globeROM Changelog

- Small code cleanup
- Removed 35 minutes download limit
- Your download will not be disconnected anymore if your download takes more than 35 minutes!

Please read the
How To
before flashing our ROM! -->
http://mi-globe.com/index.php/how-to
Problems or Feature Requests can be posted on our
Support Forum
-->
http://forum.mi-globe.com/viewforum.php?f=33
Download latest MiUI globeROM here
-->
http://mi-globe.com/index.php/rom-builder/
xiaomi.eu and official MIUI Changes
Lockscreen, Status Bar, Notification Bar
Fix - Bluetooth earphones battery status error (01-17)
Home screen
Optimization - Swipe up to remove a task in Recents (01-18)
Weather
Fix - Error message didn't disappear when weather data appeared (01-17)
Fix - Font issues with temperature when weather data appeared (01-17)
Fix - Pictures turn blur in detail pages (01-17)
For MI5 Android 7.0:
Fixed - Chrome FC when file gets downloaded
Fixed - Google App/Launcher3 FC when searching
Fixed - Random Google App/Launcher3 FC
Optimized - GPS Fix
Notes:
MIUI 8 China Developer ROM 7.1.19 is the last update before Chinese Spring Festival Holiday. All releases suspended from Jan 22 to Feb. 5, 2017. Next version will be 7.2.9..

1. Update for Mi Max / Prime, Mi Note Pro, Mi 4c, Mi 4S suspended because we're making preparations for Android 7.0 beta testing.
2. Update for Redmi Note 2 and Redmi Note 3 suspended this week due to stability testing.
3. Some features for Mi 5 are delayed due to overall releases adjustment. We will handle it after Chinese Spring Festival Holiday. Thanks for your understanding.